It's about more than just watches.
It's about reverence. A reverence to the artistry, skills and time required to get a job done, and get it done right. Craft + Tailored we are dedicated to telling the stories of the amazing objects and the people who craft and use them.
Art & Design
The Lautner Compound AKA: The Desert Springs MOTEL
January 11, 2020
To say that I am obsessed with all things design would be an understatement. Watches, cars, architecture, furniture, cameras. You get the idea. One of these such obsessions is Mid Century Modern architecture - specifically the work of John Lautner.
By:
Cameron Barr
The Details
The Rolex Two Tone Revival
December 24, 2019
Upon mention of two-tone Rolexes, or "Rolesor" watches as the brand would prefer to call it, many younger collectors are instantly hit with a wave of cherished memories. This modern rush of nostalgia can be attributed to the fact that that the popularity of two-tone watches perhaps reached an all-time high in the 1990s, with every middle-aged parent and golf course dwelling retiree donning one on their wrist
Latest from the shop
Our collection is changing every day - We're proud to offer a wide variety of the most sought-after watches and brands available.
The Details
The Allure of Vintage Oddities
For those outside of the watch obsessed world, the ideal watch "collection" is not a collection at all, but instead that single watch that's fit for reliable and stylish wear on any given Sunday. With this in mind, the watches included here may not exactly fall into that category. These aren't timeless and versatile - they are bold and specific.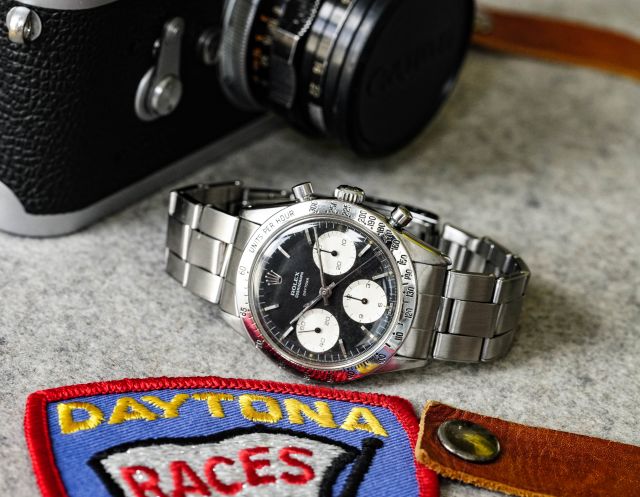 Rolex Daytona Cosmograph
The Cosmograph Daytona, introduced in 1963, was designed to meet the demands of professional racing drivers. An icon eternally joined in name and function to the high 'performance world of motor sport.
Shop Rolex
Never miss a beat
Sign up for our newsletter to receive updates and exclusive offers