It's about more than just watches.
It's about reverence. A reverence to the artistry, skills and time required to get a job done, and get it done right. Craft + Tailored we are dedicated to telling the stories of the amazing objects and the people who craft and use them.
Buyer's Guide
Buyers Guide: Undervalued Rolex References
February 18, 2020
When the terms affordability and budget-friendly are brought up in conversation by watch collectors, it's not often that the name Rolex is uttered. Understandably, this is due to the reputation the brand enjoys as a result of the above-retail prices which many modern, maxi-case references trade at — along with the continued, record-breaking success of the vintage Rolex market.
A Brief History of
Notable Explorers who wore Explorer II's
February 14, 2020
With its stark orange accents and truly unique, borderline checkerboard indices, Rolex's Ref. 1655 Explorer II stands out boldly against the rest of the lineup. Originally developed to suit the needs of spelunking explorers, who experienced difficulty discerning between day and night during extended periods inside caves, the reference would later find its way onto the wrists of all sorts of accomplished and daring individuals.
Latest from the shop
Our collection is changing every day - We're proud to offer a wide variety of the most sought-after watches and brands available.
The Details
The Famed Valjoux 72 Movement
Despite this increased awareness for in-house calibers, the so-called base or "ébauche" calibers produced in larger numbers remain valued and appreciated for their workhorse reliability. Of all the base calibers, few are held in higher regard than the famed Valjoux 72, which you'll find beneath the caseback of watches like the Rolex Daytona, Heuer Carrera, and Breitling Navitimer among others. Today we explore its history and the reasoning behind its well deserved praise.
The Details
Rolex Fabric Texture Dials
Of all the textured Rolex dials, the most iconic is more than likely the "linen dial." It's defined by its scratchy looking, crosshatched surface, which as you'd guess is inspired by the appearance of woven linen fabrics. Let's take a closer look at these textured Rolex rarities.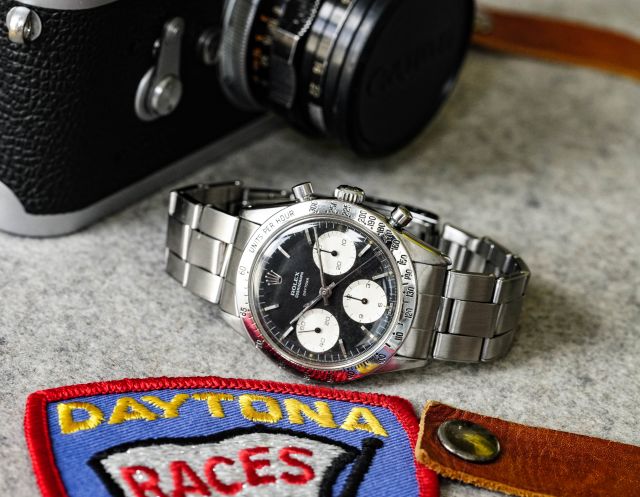 Rolex Daytona Cosmograph
The Cosmograph Daytona, introduced in 1963, was designed to meet the demands of professional racing drivers. An icon eternally joined in name and function to the high 'performance world of motor sport.
Shop Rolex
Never miss a beat
Sign up for our newsletter to receive updates and exclusive offers